The school holidays run from Saturday 13 to 21 February and there are a lot of things for children, young people and families to do during the week.
Many of these require booking, and spaces may be limited. Some require payment but some are free; please click on each link to find out more.

Saturday 13 and Sunday 14 February, 12 noon and 2pm.
Starting at Reading Town Hall, but then all over Reading town centre.
Join a sports coach and a sports captain on a gallivant around Reading town centre in an exploration of the relationship between fathers and sons. The show is appropriate for ages 12+, requires outdoor clothing and may include exercise.
Monday 15 February, 11.30am and 2pm.
South Street Arts Centre, 21 South Street, RG1 4QU.
This is a dance theatre performance for both adults and children (age 3+) about two characters journeying through a world filled with noise and silence.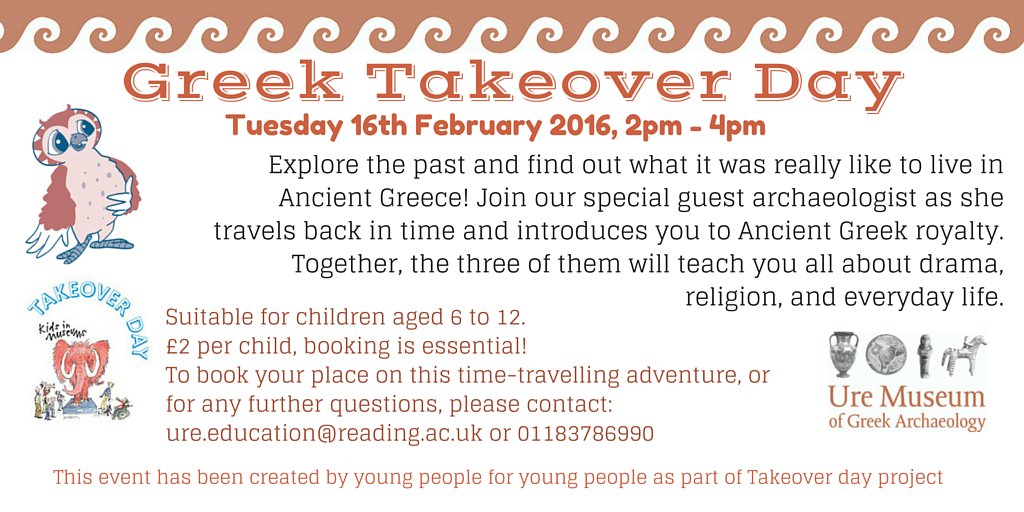 Tuesday 16 February 2pm – 4pm
Ure Museum of Greek Archaeology, Humanities and Social Sciences building (HUMSS), Reading University Whiteknights campus, RG6 6AH.
6-12 year olds can explore the past and find out how ancient Greek royalty lived.
Thursday 18 February 11am, 1.30pm and 4pm.
South Street Arts Centre, 21 South Street, RG1 4QU.
No adults are allowed at this interactive performance for 7-12 year olds, who are asked to work out how to live on a newly discovered planet.
Reading all steel percussion orchestra
Thursday 18 February 4.30pm – 6.30pm.
MacDevitts Studio, South Street Arts Centre, 21 South Street, RG1 4QU.
You can join rehearsals for Reading's steel orchestra, which occur almost every Thursday until the end of March. This is aimed primarily at 14-19 year olds.
Museum of English rural life family forum
Friday 19 February 10.20am – 12 noon.
Museum of English Rural Life, Redlands Road, RG1 5EX.
The museum invites families to offer feedback on their marketing campaign and to try out a new interactive display so they can become more interesting and relevant.

Saturday 13 and 20 February, 10am – 12 noon.
Rising Sun Arts Centre, 30 Silver Street, RG1 2ST.
10-16 year olds can learn new skills and make friends at this club. It's part of a six week course, but you don't have to take all of them.